VANCOUVER, Nov. 15, 2018 /CNW/ - Katipult Technology Corp. (TSXV:FUND - Frankfurt: K10) ("Katipult" or the "Company"), an industry leading and award-winning fintech company, is honoured to announce that it was announced as an award winner at the 2018 Singapore FinTech Festival ("SFF"), the world's largest platform for the global FinTech community, and received a cash prize of $100,000 SGD.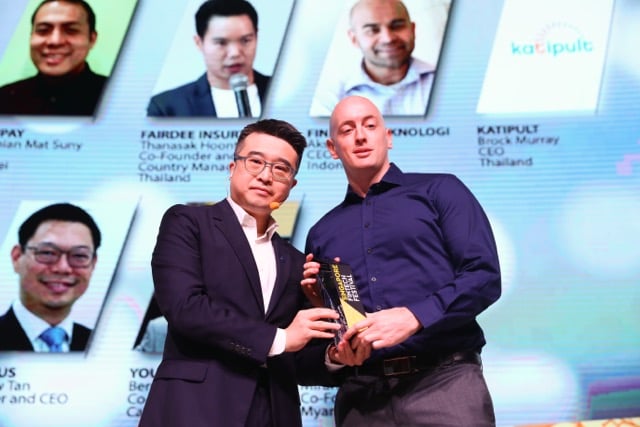 40 finalists were shortlisted from more than 280 global submissions, with entries evaluated based on four criteria: impact, practicality, interoperability, and uniqueness and creativity. The winners were selected by a panel of 17 judges who represent a cross-section of international and local experts from the private and public sectors, including representatives of HSBC, Deloitte, DBS Bank. Accenture and Boston Consulting among others.
It is a great achievement for Katipult to have been the recipient of one of only 12 awards.
The SFF is the world's largest FinTech festival and global platform for the FinTech community, drawing more than 30,000 participants last year which comprised of FinTech players, technopreneurs, policy makers, financial industry leaders, investors including private equity players and venture capitalists, and academics. The 2018 Festival has seen participants from over 100 countries and hosted more than 250 global luminaries and 400 exhibitors. The Festival is organized by the Monetary Authority of Singapore (MAS) in partnership with The Association of Banks in Singapore and in collaboration with SingEx Holdings. Festival Grand Sponsors include AMTD, Deloitte, GIC, Google Cloud and Prudential.
"We are proud to be recognized at the world's largest fintech event alongside some very exciting names in the space, and I think this shows the transformative potential that Katipult is bringing to our industry," said Brock Murray, CEO of Katipult. "This award is recognition for things we've accomplished to date and it's very encouraging to see that the industry and our peers are excited about our potential and future growth" continued Murray.