The technological advancements we've been experiencing for the past few decades have had a profound impact on various industries. Entertainment, Retailers, Health Care, and many other industries have all adopted a tech-centered approach to their business models.
Financial services are no different – software has been making big waves in the industry for the past few years, allowing companies to streamline their processes and serve their customers more efficiently. However, the industry is looking for more than just administrative software in 2021 and beyond.
The Future of Capital Markets: Driven by Tech
Since the economy is still very much in flux during Q1 of 2021, organizations are increasingly starting to prioritize investment in new technologies as the main avenue to achieving higher operational efficiency. This is only expected to pick up as firms continue to chase expense reductions and top line increases.
For example, the Investment Banking Council of America highlights investment in data and technologies as a key area of focus for any institution looking to shape-up a forward-thinking strategy. This is one of the indicators that the technology adoption rate in the industry has now gone beyond early-adopters and into the mainstream portion of the bell-shaped curve. Even better evidence of this is perhaps the fact that now, in North America, investment in new technologies amounts to almost 50% of total IT spending in many cases.
Industry-leading investment banks are already far in the process of integrating technology in their key internal processes. Effective execution of digital transformation initiatives and successful implementation of things like cloud and data analytics technology are already becoming strong drivers of top performers. With the inadequacies of legacy software becoming increasingly apparent over time, selecting the right technology partner is one of the most important decisions companies can make in regards to their IT investments.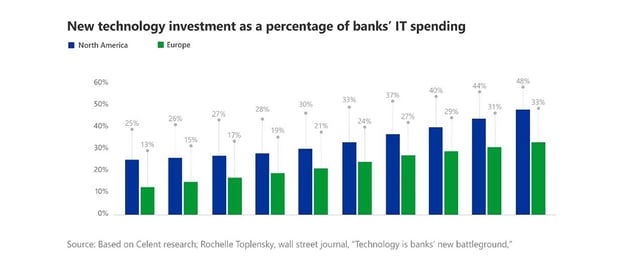 With the wide breadth of functionalities of modern software, firms are able to fundamentally rethink and redesign the way they solve for some of the main operational challenges:
Automating back-office tasks

Keeping up with the market

Better data processing capabilities

Improved customer servicing and sales
1) Automating Back-Office Tasks
Customer servicing produces a lot of back-office, administrative tasks. These tasks can be time-consuming and take the attention away from what really matters: customer servicing.
To automate these tasks, companies might invest in software solutions that deal with administration, reporting, signature chasing, etc. A fully digital process (as opposed to manual workflows) can not only increase effectiveness but also eliminate human error.
2) Keeping Up With The Market
Keeping up with market trends is another reason why companies are looking into tech partners. Technology is the new battleground for both European and North American firms, and disregarding this means falling behind the competition.
In a world where everyone is looking to get ahead of the tech curve, companies can't afford to miss out on this opportunity.
In their Financial Services Technology 2020 and Beyond: Embracing disruption report, PwC suggests that updating their IT operating model is the first thing investment companies should do to get ready for the "new normal". Among their other suggestions are actions like slashing costs by adopting robotics/AI, paying more attention to cybersecurity, and others.
3) Better Data Processing Capabilities
The most obvious advantage of software solutions in the finance world is their data processing power. Data is often viewed in spreadsheets or multiple systems, and going through all of this data manually can be a big challenge, not to mention the risks involved and error probability.
When it comes to scalability, the problem becomes even more apparent. Onboarding new customers and identifying new opportunities is much easier with the help of a software solution that can process all of these actions quickly.
4) Improved Customer Servicing and Sales
Finally, day-to-day customer management can also be significantly streamlined with the help of software. Predictive analytics can play a big role when it comes to guiding customers to the best opportunities, while other features like CRM can help investment companies identify new customer targets.
Katipult: Specialized Software for Capital Markets
Katipult is an award-winning, cloud-based platform that allows investment companies to provide the best service to their customers by managing investor interest, setting up new deal alerts, monitor deal completion status, and much more.
Taking care of all the back-office tasks and much of the data processing, Katipult enables you to focus on servicing your customers instead of handling administrative tasks.
Katipult makes it easy to:
Access all available private placement opportunities and set up alerts when new investment opportunities are available;

Mass-distribute subscription documents that your investors need to complete – error-proof and automatically populated. You can then review the status of all these documents and see which ones are pending signature.

Create investor profiles to know their exemption status, personal information, suitability, and investment preferences;

Close deals faster and more efficiently.
If you'd like to talk and see if this is the way to go for your business, contact us and learn more about how Katipult can help you become more competitive in the market.