Sector: Real Estate Investing
Location: 333 Las Olas Way, CU4, Fort Lauderdale, FL 33301
1. Can you introduce your investment platform?
The average person simply does not have the same access to superior investments as ultra-high net worth investors. What's more is that average investors often don't have the time and resources to discern between specific investments choices. Our platform has made the process easy. We vet the deals for you so you don't have to choose, and we then place them on the platform. Finally, we manage these investments for you through our proven systems, so that you earn exceptional returns while keeping a hands-off approach.
2. How did you came up with the idea to start an online investment platform? Was there an "ah-ha" moment?
Over the years, we've wanted to bring in numerous investors, but some of them were not legally allowed to invest with us simply due to their net worth! With recent regulation changes, those times are gone. Our online platform is revolutionizing the way an average person invests. You don't need to settle for sub-par returns. Not anymore.
3. What's different about your platform than others in the space?
USDVX is unique in that our platform has aligned interest with our investors, giving them access to deals that were previously only available to the super rich. Unlike other sites that simply broker deals, USDVX is structured as an asset management firm, ensuring exceptional service, access to the best deals, and management with an ownership mentality. In addition to whole loans, USDVX offers managed funds for our investors that wish to lean on our proven track record for picking investments, as well as benefit from diversification.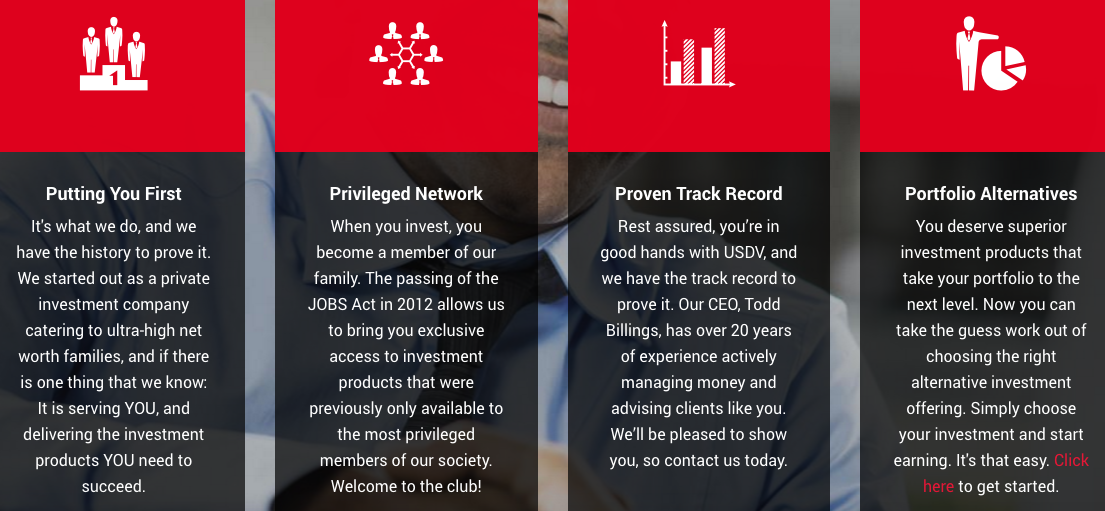 4. Do you have any milestones you would like to share with us? Or any other interesting news about your platform?
We continue to manage funds for investors like you, and our track record speaks volumes. We've managed 8 investment vehicles, with two credit facilities from global financial institutions. We've purchase around $800 million in real estate debt, and we've never lost money for investors. In fact, all of our investors are extremely satisfied with their experience.
5. How do you see the industry evolving within the next 24 months?
Many technology firms are entering the space, yet they have no financial knowledge or experience. The space is likely to get over-saturated. The firms that are going to be successful are those that already have experience investing, and thus have learned from market risks. These firms will offer you the best opportunities. Our CEO alone has 20 years of experience managing customer money. We are leveraging technology as a distribution platform to bring you the best investments, as we have done for our ultra-high net worth customers in the past.
6. Tell us a little about the founders?
Bringing with them a history of excellent returns and outstanding management, Todd Billings founded USDVX in 2016 with the help of Warren Ifergane and Amanda Allen. They have managed more than eight funds for ultra-high net worth investors, totaling close to $800 million in real estate debt. They now bring these superior investments and experience to you.