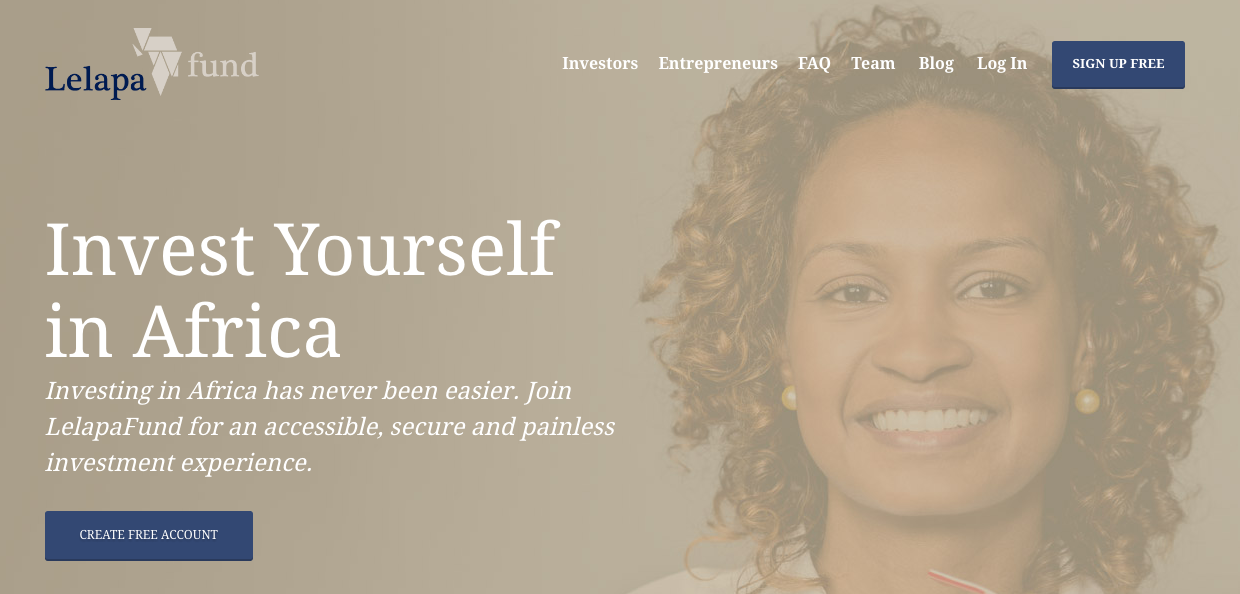 Company Name: LelapaFund Website: www.lelapafund.com
Sector: equity crowdfunding Location: Kenya and France

1.Can you introduce your investment platform?

LelapaFund is a cross-border investment platform dedicated entirely to African small businesses. We vet, diligence and prepare African businesses to raise equity finance from international investors, both first-time investors and sophisticated investors.
2.How did you came up with the idea to start an online investment platform? Was there an "ah-ha" moment?
As investors from the African diaspora, we recognized that there was no simple way to make arms-length investments in interesting, high-growth African startups and SMEs despite there being an increasing number of opportunities and interest. One had to do source, vet, structure and monitor one's angel investments, all from abroad, which was very expensive and impractical. We thus decided to create LelapaFund to remove these frictions and improve the flow of angel investment from Europe to Africa.
3.What's different about your platform than others in the space?
There are several platforms which profile African startups that are seeking investors; however, they don't provide an end-to-end transaction service. It's critical that investments take place on regulated platforms too, which the investor can trust. Before funding a single company, LelapaFund has spent years and significant resources pioneering a cross-border regulatory framework for investors to transact securely and efficiently.

4. Do you have any milestones you would like to share with us? Or any other interesting news about your platform?
We are very proud of the regulatory engagement we've had in East Africa and Europe. Since our first conversations, three major development finance institutions have assembled teams to work on policy, regulations and research to ensure crowdfunding gets the institutional support its needs on the ground. We are also thrilled to see the progress our first companies have made by virtue of going through our due diligence process for the past 6-10 months. We selected 31 companies out of over 350, and only a handful have made it through our due diligence process, a testament to their tenacity and entrepreneurial abilities. We can't wait to profile them to our investor community!
5. How do you see the industry evolving within the next 24 months?
Thanks to more awareness, the industry is likely to grow very fast over the next 2 years, which will probably be followed by a consolidation wave driven by regulators seeking to "purge" less scrupulous platforms.
6. Tell us a little about the founders?
Elizabeth Howard - CEO
Elizabeth holds Economics degrees from the University of Cape Town and Sciences Po Paris. She has 5 years' experience in emerging markets sovereign and financial risk analysis in South African and French consulting firms. She was a PhD researcher in financial econometrics for 4 years before dropping out to found LelapaFund in May 2014. A South African national, Elizabeth has 10 years of investment experience in the S. African stock market and is deeply networked in Anglophone and Francophone Africa entrepreneurial ecosystems. She holds a certificate of Entrepreneurship from Stanford University - Ecole Polytechnique Ignite Program of 2013.
Jerry Crossan – Business Development
Prior to joining LelapaFund in January 2015, Jerry worked at Grantham, Mayo & Van Otterloo in Boston, MA, developing quantitative research systems for the asset management industry. Jerry earned his B.Sc. in Computer Engineering & Technological Entrepreneurship from Northeastern University in Boston and studied courses on Emerging Markets Finance at the Harvard Extension School. He is a Level II CFA Candidate. Jerry has lived in Singapore, Hong Kong, Geneva and is now based in Nairobi where he oversees sourcing and due diligence of East African SMEs.