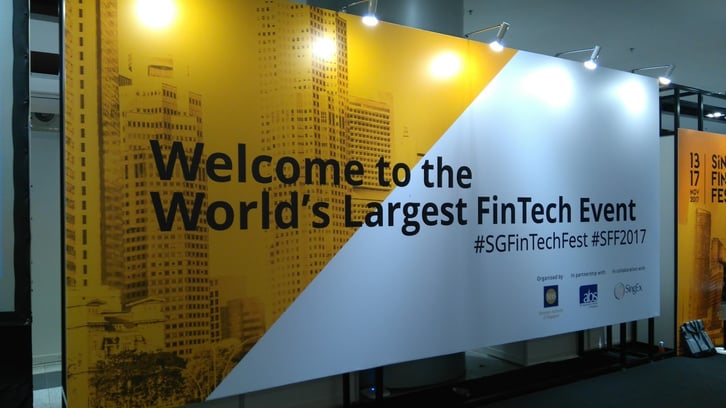 With more than 30,000 attendees from over 100 different countries, the highly anticipated Singapore Fintech Festival was once again a great success! Financial leaders and Fintech firms from across the globe have come together to discuss cutting-edge topics including blockchain and ICOs. Among other topics, one of the burning discussions was how fintech was becoming more mainstream in the financial sector.
Here are some of the main takeaways from the conference:
1) It's a Digital Age
Everything is moving online - especially in Asia. Study shows that the number of online-engaged customers increased by 50% in the past year to 200 million people. In the area of Fintech, one in three users are already consuming Fintech products. That number increases to 70% in China alone.
2) Institutions Takes Notice
Incumbents at the conference are definitely listening and observing what Fintech firms are doing in the finance industry. While thoughts of disruptive technologies keep these institutions CEO's on their heels, they remain open to working and collaborating with Fintechs.
3) Financial Acceptance
Fintech firms aren't necessarily trying to replace financial institutions, they aim to solve problems for people and increase financial inclusion. Although Fintech equals financial technology, it's still a people-business and relates to people's lives. Providing financial access to the unbanked people especially in emerging markets help solve some real life issues. Regulators continue to work with Fintech firms by helping them navigate the complex regulatory environment, while keeping their doors open to be a supportive resource.
4) Singapore as a Fintech Hub
The Monetary Authority of Singapore (MAS) poured up to $2 billion USD into Fintech startups at this event. The large number of innovation labs, startups, traditional finance firms, and supportive regulators creates a truly diverse ecosystem for Fintech here in Asia.
MAS has even explored the use of Distributed Ledger Technology (DLT) on several projects and continue to push the boundaries on what can be accomplished with the blockchain.
Here are a few other MAS initiatives:
KYC Utility to streamline end-to-end KYC

Cross-border platform with the Hong Kong Monetary Authority (HKMA)

Cross-border payments with Bank of Canada using Blockchain technology

Collaborative R&D with Massachusetts Institute of Technology (MIT)
We have also seen a rise of industry stakeholders pushing for financial innovation and financial inclusion which is a very important piece in this broader ecosystem:
ICOs have become a very interesting way firms are raising capital. But since there is a complete lack of regulation surrounding ICOs, there is largely a confusion of how to best execute a proper ICO. We believe that ICOs should leverage the same infrastructure that firms are using to do online private investments - this creates the best way forward for investors and issuers. There are rulesets already in place in many countries for soliciting investments online, and those same processes for investor onboarding, KYC, AML, investment acknowledgement, and disclosure should be applied to the ICO space.
About Katipult
Katipult is a financial technology (Fintech) company that offers proprietary cloud-based software infrastructure that allows alternative investments firms to design, setup, and operate a digital investment platform across multiple distribution channels including web, mobile, and social media. Katipult is being used in over 20 unique regulatory environments to grow investor networks, efficiently manage investors, and streamline deal flow administration.
Press Contact Katipult, Brock Murray, bmurray@katipult.com, +1 403 457 8008